WC Product Bundle is a wordpress plugin for woocommerce which allows you to bundle two or more woocommerce products together and sell them at a discounted rate.
Features
Creating bundled products with ease
Flexible pricing methods
Allows you to override bundle products Title and Short Description
Automatic stock management
Powerful API to customize many UI aspects behavior
Installation
Ensure you have latest version of WooCommerce plugin installed ( 2.2 or above )
Unzip and upload contents of the plugin to your /wp-content/plugins/ directory
Activate the plugin through the 'Plugins' menu in WordPress
Creating Product Bundle
After successfully installed and activated the WC Product Bundle you can start create your bundled products. Create a new woocommerce product and choose 'Product Type' as 'Bundled'.

Next step is adding products to this bundle. Use 'Products Bundled' tab, where you can search for products and add them to the bundle ( only 'simple' or 'variable' products can be added to bundle )

Now it's time to configure bundled products. you can configure bundled product's 'Thumbnail', 'Pricing', 'Quantity', 'Title' and 'Short Description'.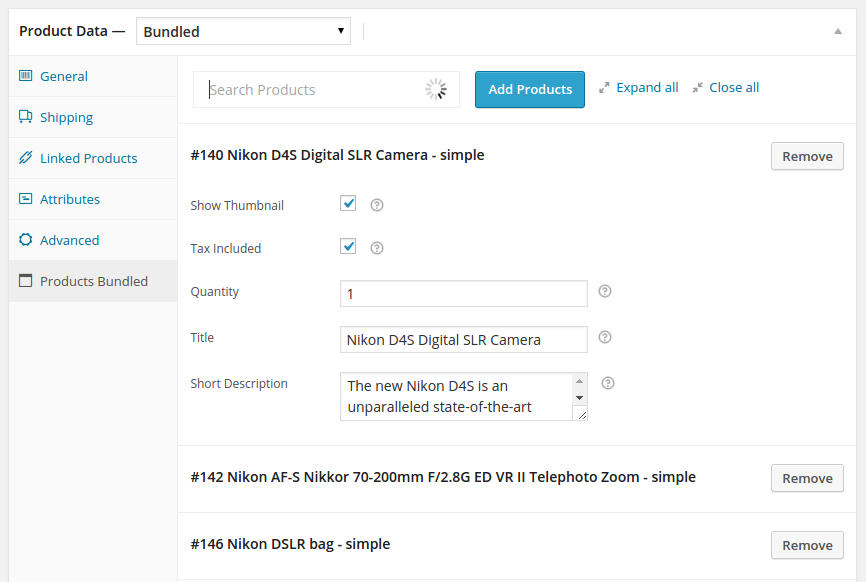 Thumbnail
By using this option you can hide bundled product's thumbnail ( default it will be visible ).
Include Tax
This option tells WC Bundled Products to include tax while calculating bundle price ( default yes )
Quantity
Quantity of the bundled product ( default 1 )
Title
Title for the bundled product ( default it will actual Title of the product )
Short Description
Short description for the bundled product ( default it will be Short Description of the actual product )
You can also re arrange the order of the bundled products by drag drop.
How the Pricing Works
The regular price for the product bundle will be calculated by summing all the bundled product's price ( with or without tax, depends on how you configured ), You can set the sale price ( discounted price ) for the product bundle by using 'Bundle Price' option, which is on the 'General' tab.
First WC Product Bundle look for the product bundle price at 'Bundle Price' option, if you haven't set bundle price then the Regular Price will be used ( which sum of all bundled product's price ).
How Tax and Shipping Works
Tax and Shipping will be taken care by woocmmmerce, just like the rest of the products, you can specify shipping related attributes by using 'Shipping' tab. Shipping is applied to the whole Bundle.
Bundle Product Page
So this is how your bundle product looks on the front end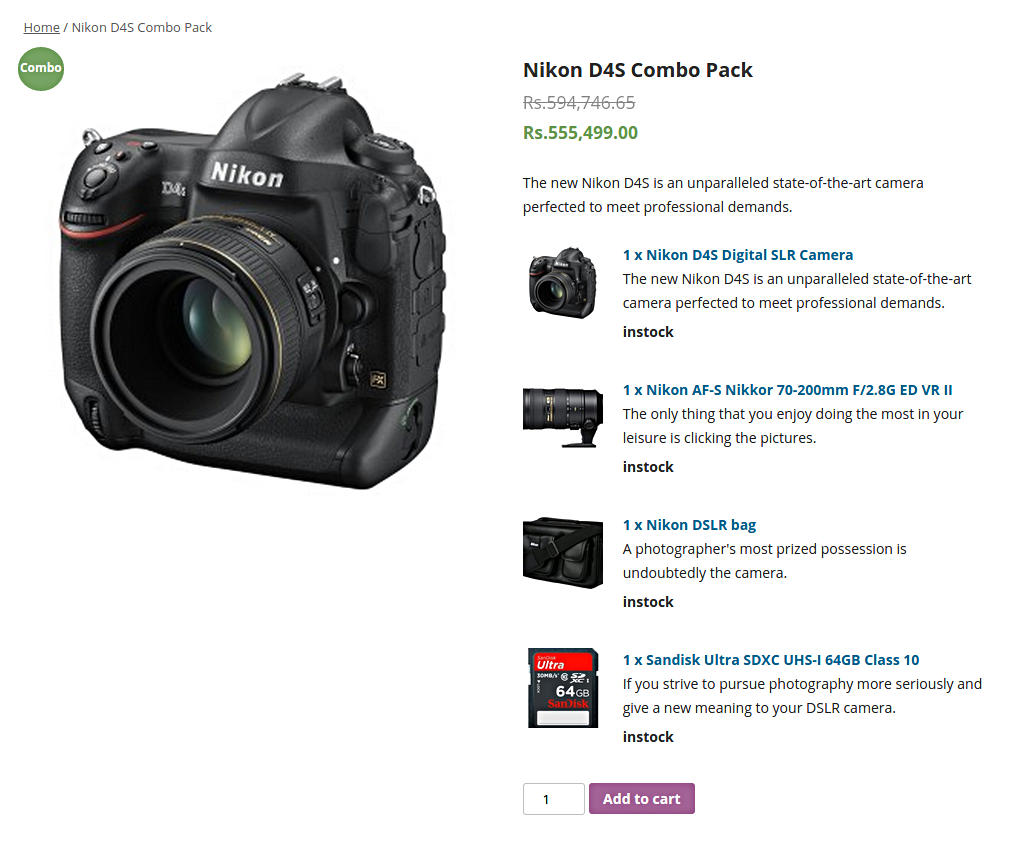 Happy Coding.!